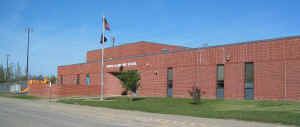 Parker Elementary School
421 N. Center Ave., Parker, KS 66072
Phone: 913-898-3160
Fax: 913-898-2058
Staff Hours: 7:45am-3:45pm
Student Hours: 8:10am-3:30pm
MESSAGE FROM THE PRINCIPAL
August, 2023
Welcome back to Parker Elementary! The staff and I are very proud of the full range of services we provide to our students and we welcome your input and participation as parents and guardians. We believe that communication is a central part of your student's success in school and we look forward to getting to know all the new members of our community. Please don't ever hesitate to contact your child's teacher or me with any question, comment, or concern whatsoever.
Along with the usual focus on traditional reading and math skills, Parker teachers strive to engage students in higher order thinking abilities that push students to apply what they know to solve real-life problems. Teachers make wide use of the technology tools available to them and students are provided with their own, personal ipad at the beginning of the year. The ipad is a tool they use to complete assignments, explore subject matter under teacher guidance, and it is also used to master curriculum independently during times when the teacher may be instructing other students. Although the ipads stay at school each night, taking care of them and using them appropriately is the responsibility of the students.
Teaching a personal sense of responsibility as well as other character traits remains a priority at Parker as we appreciate that kids are forming habits and behaviors now that will last for many years to come. Like you, we want our students to be tenacious learners, supportive friends, and optimistic individuals. These skills are just as important as scholastic abilities so we ask for your guidance and reinforcement at home. Again, communication between school and home is vital to this process.
Finally, please read this handbook thoroughly as it contains important information on all of our practices and policies. Remember to notify the office each and every time your student is going to be absent or when transportation plans change. Please contact your student's teacher early and often about what you can do to support your child's learning and check our website (or just call the office) to stay current on what's happening at the school. There are many opportunities for you to get involved and you are most welcome to do so!
Thank you for supporting our mission and please don't ever hesitate to contact me.
Mark R. Staab, Principal Parker Elementary School
913-898-3160 mstaab@pv362.org